Artificial intelligence is becoming more commonplace. Siri lives in your iPhone and Alexa orders your groceries.
Hey, Google. Where can I get a coffee nearby?
Wouldn't it be neat if you could tap into that and improve your business? You're not pioneering AI, but why shouldn't your company use what's available?
Well, you can! AI personal assistants are one of the most accessible forms of AI for businesses.
Let's have a look:
The best AI personal assistants can impact workflows by taking over mundane tasks.
An AI assistant can streamline and automate basic customer service or sales interactions.
Plus, you can pair a product or service with established AI personal assistant software.
Any way you look at it, your company can benefit from artificial intelligence now by working with an AI personal assistant!
So, that's why this article will tell you:
How to choose the best AI personal assistant for your workflow and business needs.
How to use an AI personal assistant to streamline your customer service initiatives.
How to hook up your product or service to existing AI personal assistant software.
Already have a use case for an AI personal assistant? Want to build Alexa skills? At Iterators, we design, build, and maintain custom software for startups and enterprise businesses.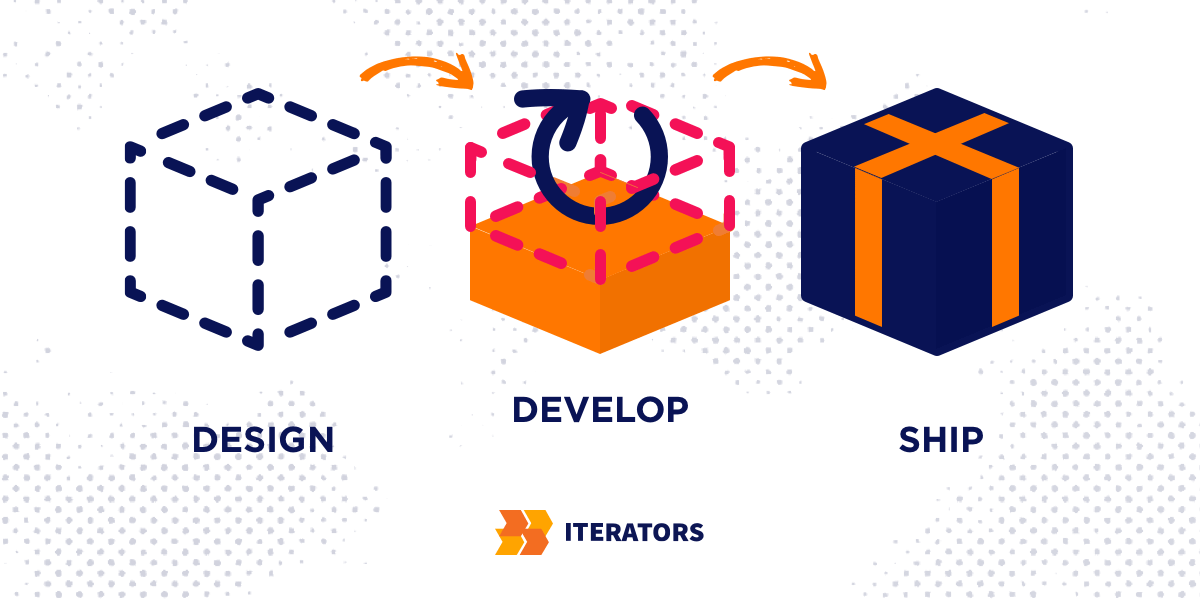 Schedule a free consultation with Iterators today. We'd be happy to help you find the right AI personal assistant solution to fit you and your business's needs.
Why AI Personal Assistants Are the Future
Perhaps you already know that the market for AI is booming. In fact, the artificial intelligence market is expected to reach $300.26 billion by 2026, up from $15.70 billion in 2017.
But what you might not know is that the demand for AI personal assistants is one of the factors driving that growth. According to Grand View Research, the voice and speech recognition market hit $9.12 billion in 2017. It's expected to grow at a compound annual growth rate of 17.2% from 2018 to 2025.
The bottom line?
The market for artificial intelligence and AI assistants is growing. You may not even realize how AI personal assistant software is merging with products and services.
But there's a good chance you have noticed how difficult it is to buy a new smartphone or computer without a built-in AI assistant app.
To give you a better idea, here's a breakdown of how many devices have one AI personal assistant app or another:
And those numbers will keep growing. So, how can you get in on the trend?
The good news? There's more than one way your business can benefit from an AI personal assistant. The best news? It's easy.
What is an AI Personal Assistant? How Can an AI Assistant Benefit Your Business?
There are a lot of different names out there for AI personal assistants:
AI Assistants
Virtual Assistants
AI Virtual Assistants
Automated Personal Assistants
Intelligent Personal Assistants
Intelligent Artificial Virtual Personal Assistants…
The important thing to note is that all those things are the same. Side note: virtual personal assistants are also human personal assistants who work remote. Just FYI.
But what is an AI personal assistant? How does it differ from general artificial intelligence?
More important – how can investing in AI assistant software improve your business?
Let's start with the basics:
What is artificial intelligence?
Artificial intelligence (AI) is a computer system's attempt to perform tasks that require human intelligence. To do so, the computer is "taught" to learn, reason, and self-correct. Examples of artificial intelligence include the ability to recognize and interpret visuals and speech. A good practical example is an AI personal assistant.
What is an AI personal assistant?
An AI personal assistant is a piece of software that can perform tasks for a user based on verbal or written commands. It is an example of weak AI – i.e., an AI system trained for a particular task. Examples of AI assistants include Siri, Alexa, and Google Assistant.
The difference between weak and strong AI systems has to do with finding solutions to problems. Strong AI, or artificial general intelligence, can find solutions to unfamiliar problems without human intervention. Weak AI can only execute tasks that you design it to perform.
Here's a list of tasks an AI personal assistant can handle for you or your customers:
Of course, the list is not exhaustive. AI assistants can also perform more complicated tasks like navigating medical records or assessing if someone is having a heart attack during a call to emergency services.
How do you teach a computer system to perform tasks based on human commands?
You use natural language processing (NLP), which is based on machine learning, to program a computer to process and analyze human language input. The first phase is speech or text recognition, helping humans communicate with computers in their own language. The result is that computers can "understand" and act on text or vocal commands, translate text, and perform sentiment analysis.
What is the difference between an AI personal assistant and a chatbot?
A chatbot is a computer program that is designed to imitate human communication online. You type in a comment and it responds to you. At times it might perform simple tasks for you like an AI assistant would. For example, Domino's has a chatbot that lets you order pizza.
An AI assistant like Google will process your commands before carrying out a request. For example, to dim the lights in your house. If you ask a chatbot to dim the lights in your house, it will simply send you a written response – "Do it yourself, Karen."
So, how can investing in an AI personal assistant help your business?
AI technology is beneficial not when it replaces humans but when it helps them work. The best solution is to invest in AI technology that can do things humans find impossible or wasteful.
For example, strong AI can sift through large data sets and find insights in a way humans can't. And AI assistants can handle mundane tasks or augment the capabilities of a product or service. What they can't do is be creative and communicative in the same way as humans.
Bottom line? Your investment in AI personal assistant software will only pay off when it supports humans instead of replacing them. When you do that, an AI personal assistant can:
Cut Costs
Improve Workflows
Improve Customer Satisfaction
Improve Sales Conversions
Cut the Time to Hire
Improve Your Recommender System
Pro Tip: AI personal assistant software can integrate with your recommender system. You can use chatbots and AI personal assistants to gather data from customers. You can then use that data to feed customers with better recommendations.
Not sure what a recommender system is? Want to know how you could use one to increase personalization and sales for your product or service? Then you'll want to read our article: An Introduction to Recommender Systems (+9 Easy Examples)
4 Ways to Use AI Personal Assistants to Improve Your Business and Revenue
There are a few routes you can take when integrating AI software with your product, service, or business:
Use an AI personal assistant to automate tasks and manage workflows.
Add a chatbot to your website to streamline customer service initiatives.
Integrate your product or service with existing AI personal assistant services.
Build your own AI personal assistant for an existing product or service.
Use Case 1: Use AI Personal Assistant Apps to Automate Workflows and Optimize Business Processes
A 2017 report by McKinsey found that 60% of all occupations are comprised of at least 30% automatable activities. And one of the main benefits of AI technology is that it can automate tasks and streamline workflows. It doesn't matter what your business does, there's at least one process that you can optimize with an AI assistant.
Deloitte cites a 2017 report that estimates a 21% growth rate for the workflow and management systems market, increasing from $3.5 billion in 2016 to $9.9 billion by 2021.
And what's supposed to drive that growth? AI systems that make companies more productive through the automation of workflow tasks. Here's a list of a few areas where AI personal assistants can help:
Sales
Marketing
HR & Recruitment
Customer Service
For the sake of simplicity, let's start with some of the most mundane office tasks:
Writing Emails
Scheduling Meetings
Taking Notes
Making Travel Arrangements
AI personal assistants automate small tasks so workers can focus on more important things. If you're a big deal in a company – Mr. CEO – you might have an actual human personal assistant who does these things for you.
For the rest of the company, an AI personal assistant can pick up the slack. The idea is not to replace workers. It's to use technology to boost productivity and assist workers.
Here are a few easy, cheap solutions to help you automate the tasks listed above:
Schedule Meetings with AI Personal Assistants: Examples – x.ai and Meet Sally
Meet Amy and Andrew – x.ai's two AI personal assistants who schedule meetings for you. All you have to do is CC Amy or Andrew in your emails, and they will do the rest. Here's how:
An alternative to Amy and Andrew is Sally. She is an AI personal assistant that works much the same way. CC Sally in an email and she will schedule meetings for you.
Automate Tasks with an AI Assistant: Example – Cortana for Enterprises
For enterprise businesses, you may want to explore what Cortana has to offer. Cortana is Microsoft's AI personal assistant. For starters, engaging with Cortana gives your employees access to its core functionalities. Want something more sophisticated? Enterprise developers can create skills for Cortana on a dedicated platform.
But there are two major downsides. The first, Microsoft has yet to reveal what kind of skills Cortana can learn. Plus, the Cortana Skills Kit for Enterprises is currently invite only.
Microsoft says that they imagine the development of skills ranging from human resource management to smart office management. But that's to be seen.
To get basic access, you'll need an Azure AD tenant for your company and you'll need to connect employee devices to Azure AD. Once you sign in, your employees give Cortana access to their profiles to use basic functionalities.
Here are a few things Cortana can do for you now if you happen to have Windows 10, version 1703 on your computer or mobile:
Give You Reminders
Track Packages, Teams, Interests, and Flights
Send Emails and Texts
Manage Your Calendar
Create and Manage Lists
Find Facts, Files, Places, and Info
Open Apps for You
Don't want to use Microsoft's AI assistant? Here are some alternatives that do more or less the same things:
Automate Travel Arrangements with an AI Personal Assistant: Example – Mezi
Mezi is an example of an AI personal assistant app that automates the process of making travel arrangements. If you travel a lot for work, an app like Mezi can reduce the amount of time you spend making bookings.
The AI assistant helps you to book flights, hotel rooms, and restaurants by automating 60% of its conversations with the use of chatbots.
Use an AI Virtual Assistant to Improve Other Business Processes
Now, let's say you have a few areas that would benefit from a more involved approach to AI personal assistants – e.g., Sales or HR & Recruitment.
Does your business have a high volume of sales leads to process?
A report by Gartner shows that 30% of all B2B companies will use AI to boost at least one of their primary sales processes by 2020.
Why? Apparently, using AI in sales can increase conversion rates by 30% when you use it to engage leads. And AI assistants provide "fast and accurate support" according to Gartner.
There are already some solutions on the market that you can use to tap into the power of AI for sales. Here's a sample list:
Conversica: AI assistant for Salesforce and the Salesforce Leads Management App.
Drift: AI assistant that vets leads for you through conversational marketing.
Intercom: AI assistant for acquiring and retaining customers and sales leads.
You can also improve your recruitment process by using an AI personal assistant to automate tasks. Mya Systems is a good example of an AI personal assistant that reduces friction during recruitment. Mya is a recruitment automation bot that screens job applicants, schedules interviews, and creates candidate shortlists.
How does Mya do this? She uses NLP to match candidate resumes to job descriptions, creating questions for screening.
From there it gets more complicated. Using a form of deep learning and sentence semantic analysis, Mya can steer interviews and extract meaningful information from conversations with applicants. Based on the information, Mya decides if a candidate is suitable for the position.
It is beneficial for all businesses to reduce their time to hire, and AI technology could help. On average it costs businesses $4,000 and 24 days to hire a new worker.
Reducing time to hire cuts costs and ensures that you're getting the person you want. If you take too long, talented recruits will often move on to other offers.
At the same time, you want to be sure you're getting the right person. Employee turnover is even more expensive, costing you 33% of the worker's annual salary to find a replacement.
Use Case 2: Use AI Personal Assistants or Chatbots to Streamline Customer Service on Your Website
While customers may prefer to talk with a real human being, chatbots still have an important place in customer service and sales.
First, people are interested in chatbots. Facebook recently released research showing that conversations around chatbots grew 5.6x in a year in the US. And more and more people are reaching out via messaging first.
In the US, 61% of daily messaging app users told Facebook they had messaged a business in the last 3 months. That percentage goes up in emerging markets like Brazil (85%) and India (74%). Okay, so people are chatting with brands. But what do they expect?
When chatting with a business, 61% of US participants told Facebook they expect faster response times than traditional channels. And that's where chatbots come into play.
Chatbots can respond to customers 24/7 at times when a business would otherwise be closed. And chatbots can respond to customers when there is no real person available. The lower the response times, the happier the customers.
As an added benefit, 69% of US participants also told Facebook that being able to message a business made them feel more confident about the brand.
That's probably why 25% of customer service operations will integrate with a virtual customer assistant or chatbot by 2020. According to Gartner, that's up from less than 2% in 2017.
The bottom line? When you sell online, adding a chatbot to your website is an easy way to handle customer service and sales leads. Chatbots and AI technology can answer simple questions or requests, delegating harder questions to live staff.
Using a chatbot saves your company time and money by allocating time-consuming tasks to the bots. Your employees are then free to tackle more complicated tasks. Plus, you decrease the amount of time it takes to respond to a customer or lead, increasing the likelihood of satisfaction and conversion.
In fact, Gartner reports that a virtual customer assistant or chatbot can reduce inquiries by 70% while increasing customer satisfaction. The cherry on top? There's also a 33% increase in savings per engagement.
So, how do you get a chatbot to handle your customer service? There are a couple of options:
Integrate with an existing chatbot service for your website.
Integrate with social media chatbots – e.g., Facebook and Twitter.
Build a custom chatbot to handle customer service or sales leads.
We'll cover the first two points in this section. If you want to find out how to build a custom AI personal assistant or chatbot, skip to section four of the article.
Integrating with an Existing Chatbot for Your Website
Want to make things simple? Here's a list of 5 existing chatbot solutions for websites:
Intercom – As mentioned before, Intercom is platform that mixes live chat capabilities with chatbots to help you deliver customer service and convert sales leads.
Nina – Nina stands for Nuance Intelligent Virtual Assistant and is an AI personal assistant for customer service using voice and text.
VoiceSell – A conversational commerce solution for your mobile or e-commerce website. The tool provides you with a voice navigation interface using NLP.
Dialogflow – An AI personal assistant that connects with your website, app, Google Assistant, Amazon Alexa, Facebook Messenger, and other platforms and devices. Built on Google's infrastructure, Dialogflow uses Google's machine learning expertise.
Integrating with Social Media Chatbots on Facebook and Twitter
Do you get a lot of customer service queries via social media? Perhaps you should consider integrating with Twitter or Facebook's AI personal assistant apps. The good news is that they are relatively inexpensive and easy to build.
Here's where to get started with building a chatbot on Twitter's API. Twitter suggests considering some of the following before getting started:
Set goals for your brand – e.g., increase engagement or personalize marketing.
Decide how a chatbot might help you accomplish these goals on Twitter.
Create a voice for your chatbot that mirrors your brand identity.
Think about how you will leverage the discovery aspect of Twitter users.
Figure out how you're going to measure the success of your chatbot.
Here is where you should go to get started on building a Facebook chatbot for your business. And here is Facebook's design kit complete with drag and drop elements for UI prototyping.
To further implement natural language processing (NLP) abilities, go here. The social media giant has also announced updates to its API and customer chat controls that are worth a look.
A few general tips when using social media chatbots:
Write a Welcome Message
Give Your Bot a Personality
Use Emojis and Visuals
Let Customers Know it's a Bot
Ask Initial Questions
Build Conversation Trees
Map Customer Journeys
Add Call to Action Buttons
Here's an example of Patrón's Twitter chatbot, Bot-Tender:
Use Case 3: Integrate Your Product or Service with Existing AI Personal Assistant Software
Existing AI personal assistants like Alexa, Siri, or Google AI assistant have API integration so you can piggyback on their infrastructure.
Let's take Spotify as an example. Alexa users ask the AI personal assistant to play their Spotify playlists. And because Spotify integrated with Alexa's APIs, their users can access songs on the device. If you have a similar service, integration might be the right solution for you.
Alternatively, you can equip your product with existing AI assistant software. For example, several car manufacturers are installing Google and Alexa in their vehicles. BMW even integrated their vehicles with an AI personal assistant aptly called BMW Intelligent Personal Assistant.
Drivers can ask for help for driving-specific tasks – e.g., finding traffic and weather reports. They can also ask for general help already provided by virtual assistants.
Alexa, play my Spotify playlist.
Also, you can create a smart product that integrates with a voice-activated AI personal assistant, making it part of the Internet of Things. Many providers of smart home items are already integrated with both Alexa and Google.
Which is the Best AI Personal Assistant Software for Your Product or Service?
Is it Alexa, Siri, or Google AI assistant? That seems to be the question. Here are some starter facts:
Google recently announced that the Google AI assistant should be available on 1 billion devices globally before the end of January 2019. Google's AI Assistant is compatible with more than 10K smart home devices from over 1,600 brands.
Comparatively, Amazon's Alexa connects to some 100 million devices. The difference? Google has millions of Android-based smartphones on the market.
At the same time, Alexa is compatible with far more smart home devices than Google Assistant. More than 28,000 smart home devices from over 4.5K brands.
If you decide Alexa is the AI assistant technology for you, you'll probably want to check out the Alexa Connect Kit. The kit allows you to connect devices to the AI personal assistant without managing cloud services, writing a skill, or developing complex firmware.
In the meantime, you could consider tapping into AI personal assistant skills. Alexa has some 70,000 skills that users can play with. What skills? Everything from "Alexa, ask Pikachu to talk" to "Alexa, find my phone."
Google Assistant Connect for smart devices won't be available to device makers until later in 2019. In the meantime, you can integrate with Google's AI Assistant by building Actions. Google Actions are much like Alexa's skills. You can design and build custom conversational, smart home, and content Actions with Google.
Have an iOS app? By using SiriKit, you can integrate your app with Apple's AI personal assistant so people can use their voice to get things done.
And let's not forget Samsung. To leverage Samsung's AI, you can integrate with Bixby, which is available on millions of Samsung devices. Bixby is an AI platform that allows developers to leverage their existing APIs to build conversational experiences into their services.
Alternatively, you can use Viv to develop and build AI personal assistants. Viv was recently acquired by Samsung, so your product will still be available on all Samsung devices.
Pro Tip: Want to play around with a prototype before integrating with Alexa? Try Ubi Kit, a free testing and development tool for developers and product managers. Pay when you build a satisfying solution.
Use Case 4 – Build an AI Personal Assistant or Chatbot Into Your Product or Service
You may come to the conclusion that you need a custom AI personal assistant or chatbot. But learning how to make your own AI assistant isn't the easiest task.
That's why you should start by asking yourself if any of the above solutions are suitable for your needs:
Can I solve my problem with an out-of-the-box solution?
Could I use a platform like Dialogflow to create my AI personal assistant?
Would it benefit me to leverage an existing platform?
Obviously, if you answered yes to any of the above, you don't need to build your own AI assistant or chatbot. If you answered no, you should ask yourself the next set of questions:
How much am I willing to budget to build an AI personal assistant?
Do I want to make my AI assistant in-house or outsource the job?
How complex do I need my virtual assistant or chatbot to be?
How human do I want my AI to be and how much do I want to invest in its personality?
The answers to these questions will give you a clearer idea about the scale of your project. If you want your AI technology and software to be quite complex and have a strong personality, you're going to need to invest quite a bit into data, developers, and other staff.
For example, many AI creators are hiring staff with varied backgrounds. A person with experience in theater or fiction writing can make your AI software seem more human.
So, you need to ask yourself if you have the resources to build such a dedicated, diverse team of people. And unless you're delivering an AI-based product, the answer to the question above is probably no.
You'd be better off making a less complex AI personal assistant with the help of some dedicated developers. If you still think you need something more complicated, you should consider outsourcing your project.
The main benefit of creating your own AI personal assistant software is flexibility. You can create a product that suits your needs, fixes your problems, and uses your brand's voice.
Pro Tip: Want an easy solution? You might try Mycroft, an open source AI personal assistant. You can improve it or adapt it to run as a complex enterprise solution or something simpler.
Not sure if you should hire a programmer or outsource your AI assistant project? Are you a non-technical person who struggles with tech staffing? Not to worry! Read our article: How to Hire a Programmer for a Startup in 6 Easy Steps
Conclusion
Finding a use case for an AI personal assistant is going to improve your business one way or another. Whether you use it as a simple application to improve workflow or a more complex way of recommending options to customers, you're ahead of the curve.
It's also good to be aware of the integration opportunities that existing AI personal assistant software provides. Not knowing is a missed opportunity.
Another thing to keep in mind is that AI technology is already converging with other things. Examples range from AI merging with blockchain solutions to AI robots. We are entering a new realm of AI-fueled technological possibilities, and it's always best to stay one step ahead.