Good decision-making often results from being decisive and understanding the critical factors relevant to a business. That's why, regardless of your industry, you need information available as and when due. Data visualization via Business Intelligence tools such as Microsoft Power BI, Tableau and Metabase helps you use charts and graphics to display and explain concepts, expectations, and outcomes.
This guide reviews Power BI and Tableau, outlining their best features, benefits, and where each falls short. We also introduce the powerful open-source alternative, Metabase. It will help you to choose the most appropriate solution for your business.
What is Business Intelligence, and How Does it Help Businesses?
Business Intelligence, or BI, is a way for businesses to analyze data and deliver actionable information in a way that supports key staff to make informed business decisions.
The BI process involves organizations collecting data from internal IT systems and external sources, preparing it for analysis, running essential queries on it, and creating BI dashboards, data visualizations, and reports to provide the analytics results to business users making operational decisions and doing strategic planning.
The tools that BI uses to achieve these goals include analytics, data management and reporting tools, and a mix of modern methods for managing and organizing data. While the use of software is growing in the business intelligence process, there's more to the business intelligence architecture than a collection of non-trivial software applications.
Standard business intelligence software includes Power BI from Microsoft and Salesforce's Tableau. These platforms can use historical information and real-time data to support critical decision-making workflows.
Benefits of BI for Businesses
Business Intelligence primarily helps businesses to improve decisions. Using it will enable your organization to grow revenue, improve operations, and keep you light years ahead of your competition.
Here are a few other ways that BI will help your business:
Faster and more efficient decision-making
Smoother internal business processes
Improved operational efficiency and productivity
Identifying business problems that need urgent attention
Spotting emerging industry and market trends before the competition
fine-tuned business strategies
Multiplied sales and revenues
Overall competitive edge over rivals
Other indirect business benefits of using Power BI include making it easier for project leads to assess the status of business projects and generate an accurate picture of the impact of the competition.
BI, data management, and IT teams benefit from business intelligence, as it helps each group to analyze aspects of technology and analytics operations.
What are the Key Features of Power BI and Tableau?
Microsoft Power BI and Tableau are two of the most in-demand business intelligence platforms for modern business. The former processes data from various sources, providing visualization after cleaning and integrating the input.
Power BI enables ad hoc report generation and supports comprehensive data analysis. Its dashboards are effective and intuitive; you can publish them online after generating them. New users and those with little technological experience find this Microsoft product easy to use.
If your goal is to identify patterns and trends quickly, Microsoft Power BI offers the power of ad hoc queries for the purpose.
Similarly, Tableau is a highly popular business intelligence solution. The platform's appealing user interface has helped it gain a loyal audience, but its power lies in its ability to generate dashboards, reports, and analyses using data from multiple sources.
Tableau offers interactive data visualization to help you to understand your sales, customer, or other data and observe crucial insights. With this product, users can understand data without necessarily understanding the underlying complexities or having deep technical knowledge.
Therefore, Tableau is valuable for understanding complex processes easily and efficiently.
What are the similarities and differences between Power BI and Tableau?
A fair comparison of Power BI to Tableau is only possible if one considers as many components as possible. We'll put this approach into practice by reviewing the features of both platforms.
Features of Power BI
Here are the essential features of Microsoft Power BI.
Power BI can spot real-time trends, enabling users to spot issues and improve performance quickly.
It presents a simple, non-intimidating interface for all levels of users.
Power BI's auto-search features allow you to ask questions. It also offers a Q&A feature that provides quick answers to questions while you explore data in your preferred way.
Using the Get Data functionality, you can collect data from diverse sources such as Power BI dataflows, Power BI datasets, SQL Server databases, and so forth.
Power BI's flexible tiles are an incredible data visualization tool. A tile represents a visualization block in the Power BI dashboard that clarifies your view of the data. It's easy to adjust tile sizes in any way suitable for your business.
DAX (Data Analysis Expressions) functions in Power BI are also an essential component of the Power BI platform. These predefined codes support your business in performing analytics-specific data functionalities.
Features of Tableau
In order to create custom dashboards in Tableau, you'll be better off learning about the software's key features.
Tableau enables you to connect to popular database servers such as Microsoft SQL Server and Tableau Server.
You have the benefit of a highly flexible platform. Its multiple data connectors act as interfaces for databases and data sources such as Microsoft Excel files, JSON files, or even plain text files.
A highly intuitive platform, Tableau allows users to creatively represent data using a range of visualizations, including box plots, Gantt charts, histograms, motion charts, and so forth.
Tableau's map feature offers important geographical information from cities to postal codes, administrative boundaries and much more. It is the secret to the high level of detail in Tableau maps.
If you need to establish live data connections, enable direct use of data from any sources.
Tableau is secure, protecting users through modern authentication and permissions systems for data connections and other access.
Tableau ships with a unique Ask Data feature where you can type a query for your data, and the software will return the most relevant answers as automatic data visualizations.
Which platform is better for data visualization and analysis?
Both Power BI and Tableau are excellent tools in their own right. However, each one ships with unique data analytics and data visualization features. To choose the better product, it's best first to identify your organization's specific needs. Begin by considering parameters such as:
Who will use the platform (that is, stakeholders or data analysts)
The requirements of the primary users
The size of your organization
The volume of data you're looking to collect insights from
Now you're better informed to choose the platform that works for you.
Microsoft Power BI provides features users can relate to (if they're coming from the world of Excel), so it's easy to learn. Imagine your employees with little knowledge of data analysis analyzing data like the pros. Sweet!
On the other hand, Tableau's interface is more challenging to get around. That means a steep learning curve, but it works great for data analysts to understand data visualizations and data analysts.
Power BI is the clear winner when we want something Grandma can use, but Tableau is a genius for speed and advanced functionality.
What are the strengths and weaknesses of each platform?
Both Power BI and Tableau are comprehensive tools to visualize your business data. Each has its strengths, and depending on who's using it, there are a few quirks to note.
Power BI Desktop allows you to create datasets, dashboards, and reports for your use and share them with your co-employees for analysis. However, you need to pay $9.99 per month for each user in your organization to share reports on the cloud.
Power BI is immediately usable by anyone who knows Excel at a little more than the beginner level.
The kaizen-like improvement process means Microsoft offers monthly updates to users.
Part of the beauty of modern software is the ability to access them from elsewhere. Power BI takes it up a notch by allowing users to access data from multiple sources anywhere and any number of times.
Dashboards must be beautiful and usable simultaneously, and if you have to create various visualizations in one go, Tableau is a good choice. Yet, Power BI offers highly interactive dashboards that, in one click, enable users to filter and highlight features. The application's query editor helps modify data files before loading them into Power BI.
Power BI also integrates well with the R and Python programming language to use visualizations while offering quick deployment in a secured environment. Similarly, Tableau delivers a secure, high-performance environment that allows users to incorporate R and Python to perform complex table calculations.
Tableau's software upgrades are simple and intuitive.
Tableau provides a ton of support regarding documentation and community, including:

Online resources
Guides
Training
Online forum

However, while Power BI is available on desktops and the cloud, the latter is incompatible with Apple's iOS platform. The interface could be more intuitive, as its many icons tend to clutter your view of reports and dashboards.
Conversely, Tableau doesn't offer version control, making it difficult to revert to a previous level of data once you publish dashboards and reports.
A significant limitation of Microsoft Power BI is its inability to accept files greater than 1 GB in size. Larger datasets are unwieldy to process using Power BI's complex features, as the software tends to crash in such circumstances. Interestingly, the size of your dataset will only bother Tableau a little because the platform is built to handle large amounts of data.
While Tableau won't limit how much data you can process at one time, it has a 16-column table display limit. It's okay if you experience issues when displaying data for larger tables.
Besides, Tableau's static parameters only permit you to select just one value using a parameter. It also means that when data changes, these parameters only automatically update if you intentionally do it.
Finally, Tableau doesn't automatically refresh reports, so you'll have to do the work to update data in the back end.
What is Metabase, and How Does it Compare with Power BI and Tableau?
Whereas Power BI and Tableau are the traditional workhorses of business analytics and data visualization, there's a new kid making headlines on the block.
Introducing Metabase
Metabase is the open-source business intelligence and analytics tool of choice that offers a unique natural language system for querying data. It provides your team(s) with an easy way to generate dashboards and charts. But there's more: the software solves ad hoc queries without implying SQL, interpreting elaborated data as rows in the database.
Users can easily configure Metabase in five minutes and access a separate platform to submit queries. The software would then analyze the generated data and run the query. Since we've already given in-depth coverage on the strengths and weaknesses of Power BI and Tableau, we'll now review Metabase's awesome features and how they stack up against those two.
Why is Metabase becoming increasingly popular among businesses?
If you're wondering if you should switch to Metabase, you'll do well to check out the list of who's using it already. Companies that have developed a strong trust for Metabase include ADAC Camping GmbH, CircleCI, Geocodio, Mathspace, N26, QR Point, Ruangguru, and Styleshare. The question then becomes, "Why are these strong companies betting their operational performance and competitive future on Metabase?"
Firstly, Metabase is really easy to use for even those who know next-to-nothing about creating visualizations or using dashboards. Compared to Power BI and Tableau, the drag-and-drop interface literally guides you to the end goal with suggestions based on your data.
Your charts will be based on this interface and accompanying suggestions. The latter will specify whether to use aggregation or ordering by particular fields. This is especially effective when you source data from the right database. Unlike Tableau and Power BI, this means you have no need for complex analytics or technical knowledge of SQL, Python, or another programming language.
While data visualization in Tableau is appealing and explorative, Metabase is comparable in the ratio of data analysis. Being an easy-to-use and self-hosted solution, its integrations include robust data crunchers (some open-source) such as Amazon Redshift, Microsoft SQL Server, MongoDB, and Oracle MySQL.
Metabase offers a paid tool with a 14-day free trial if you prefer to try it out before purchasing (you'll need your credit card!). The only snag is it only works well with a single SQL data source.
However, in doing a neat one-up on Power BI and Tableau, Metabase is open-source. This means the code is extensible or tweakable to do precisely what you want it to do. Just open up the code and make it do your bidding.
Metabase maintains a simplified layout of Questions, Dashboards, and Collection. A Question refers to a query with an output (say a chart or table with data).
What are the Key Features of Metabase?
Using Metabase for data visualization and business intelligence holds a long-term positive for your business. The dashboard is beyond sufficient for any startup, agency, or small business enterprise.
It is adept at handling big data, even going as far as using it as an actual data resource. Like Tableau, Metabase is efficient with big datasets, which your company will likely generate or use to develop essential business insights.
Here's a more concise overview of Metabase's premium features available on the Enterprise and Pro plans:
Authentication

Authenticating with SAML

Setting up SAML with AuthO
Setting up SAML with Azure AD
Setting up SAML with Google
Setting up SAML with Keycloak
Setting up SAML with Okta

Authenticating with JWT

Permissions

Data sandboxes
Block permissions
SQL snippet folder permissions
Application permissions
Download permissions
Database management permissions
Data model management permissions

People and group management
Embedding

Embedding the entire Metabase app in your app
Customizing Metabase's appearance

Dashboard subscription customization

Customizing filter values for each dashboard subscription

Restrict which domains people can send alerts and subscriptions to

Approved domains for notifications

Content moderation tools

Official collections
Verified items

Advanced caching controls

Caching controls for individual questions
Caching control per database

Auditing
Admin tools
Serialization
Configuration file
However, you must learn about lesser-known Metabase features you can use in your work.
| | |
| --- | --- |
| Feature | Function |
| Alerts | Send a notification when a metric hits a certain number |
| Export | Send out results in CSV, Excel, or JSON formats |
| Field Filters | Create smart filter widgets in SQL queries |
| Click customization | Customize outcomes when people click on a chart |
| Multi-level summarizations | Notebook editor makes additional stages of filtering, joining, and summarizing possible |
| Code share and reuse | Share and reuse bits of code containing SQL statements |
| Organize collections | Order collections via dragging, dropping, and batch moving |
Comparing Integrations in Metabase, Tableau, and Power BI
While Tableau is incorporated into Centercode, Metabase is incorporated into GLPI. However, other Tableau integrations include Koros marketing, Incentive Solution, Fluix, Diffbot, and Claris file maker.
Metabase's visualization appears rudimentary to the typical user. However, the ratio of data analysis is more or less the same. Chartio, Domo, Grow, Looker, Sisense, and Zoho are alternatives for these tools.
Apache Kylin, AtScale, Dremio, Timescale DB, and Vertica are recommended integrations for Tableau. Metabase pairs up well with Amazon Redshift, Microsoft SQL Server, MongoDB, and Oracle MySQL.
What are some tips for businesses to maximize their Business Intelligence tools?
Since business intelligence is critical to sound decision-making, it's essential to discover the steps necessary to build a robust business intelligence strategy.
Best Practices for Using Business Intelligence Tools
BI tools are the bedrock of actionable business insights; therefore, here are a few best practices to remember when you use them.
Understand your audience and their objectives.
Consider the sources and formats of your data, considering that strategic data consolidation and preparation make BI-geared analyses more efficient.
Anticipate the growth of your data needs.
Prioritize data readiness.
Train your team on your BI toolset and workflows. You can start with a small focus group and scale from there.
Emphasize collaboration across your organization and network with members of the data community.
Make your business intelligence using augmented analytics.
Link business intelligence to improving decision-making.
Guarantee compliance with data security laws.
Ensure that IT and BI stakeholders are on the same page.
Common Mistakes to Avoid When Using Business Intelligence Tools
According to a study by Dresner Advisory Services, 55 percent of organizations cite cloud BI as "critical' or "very important" to their business. Most businesses need a way to coordinate unstructured data and half of those have to do this routinely.
Despite being so important, many BI projects fail because of poor planning, low user adoption, inefficient use of BI tools, and other reasons.
Here are some common mistakes to avoid when using business intelligence tools to prevent an epic failure of BI tool implementation.
Poor communication
Absence of executive support
Ignoring ease of use and making it hard to adopt BI across your company
Absence of a comprehensive strategy
Lack of implementation of an effective change management plan
Approaching Analytics as a technology project
Creating data silos that cut off large portions of the org from leveraging your BI
Depending on unreliable data
Disregarding data storytelling
If you thoroughly think through your data strategy, you'll realize that BI tools can only achieve desirable results when you correctly implement them.
Which Platform Offers the Most Compatibility With Various Data Sources?
It's more complicated to consume large sets of data. But, it's also possible not to glean many helpful insights from such large data sets. It is the chief benefit of data visualizations.
The best data viz tools are capable of handling vast sets of data. Power BI and Tableau, as alternatives to Excel, can import data from various sources and output visualizations in an array of formats.
Power BI connects to at least 70 data sources, while Tableau Desktop can connect to around 100 data sources, so it wins on this count.
What is Metabase and Why is it a Good Alternative to Power BI & Tableau
Metabase is an excellent tool for your business if you have multiple data sources and aim to understand and analyze the entire data set.
It works excellent for customizing dashboards, though it can be tricky regarding intuition. You need some technical experience to make the most of the platform.
Metabase is great for the following use cases:
Storing data
Easy SQL-light querying
Rapid ingestion of data from multiple sources
The ROI on integrating Metabase into your operations includes the following:
Offers quick and in-depth reports for customers
You can store customer data in a dynamic way
You can create customer-centric metrics
According to G2.com, Metabase offers the fastest way to share data and analytics within your company. Its 5-minute install time lets you hit the ground running and connect to MySQL, PostgreSQL, MongoDB, and several more databases.
If you prefer to work in another language, Metabase is available in Bulgarian, Catalan, Czech, German, English, Persian, French, Italian, Japanese, Dutch, Norwegian, Polish, Portuguese, Russian, Slovak, Spanish, Swedish, Turkish, Ukrainian, Vietnamese, and Chinese (Simplified & Traditional)
Despite proprietary alternatives such as Mode Analytics, Power BI, and Tableau, Metabase still offers the most flexibility. Configuring the system and basic queries does not require dedicated engineering resources.
What are the key benefits of using Metabase over Power BI and Tableau?
Metabase continues to win new users because of its innovative approach to data analytics and data visualization. Despite Tableau and Power BI maintaining a loyal following for the positive features we've highlighted, it's easy to see that Metabase is the future of business intelligence.
Recall that Tableau enables the user to see and analyze data, linking the database and offering drag-and-drop options to develop visualizations and share them. Power BI visualization, on the other hand, helps you to turn data into opportunity, driving enhanced business decisions via enterprise data analytics for insights.
Simplicity
Compared to Tableau and Power BI, Metabase has the advantage of being accessible too. It's way simpler to learn and use than both.
One way Metabase captures customers' hearts is by offering a friendly interface that's neither cluttered with non-essential features nor clunky. This clean interface makes it easy to join tables on keys.
The simple appearance also makes it easy to automatically share reports by periodically emailing reports or dashboards to an email list.
Support for Startups and Agencies
If you choose either as a startup or an agency, you'll be in good company as Metabase supports these groups, enterprises, and SMEs, which Tableau typically caters to. Therefore, that community support will be abundant when you run into a corner, as you inevitably will.
Drag-and-Drop Visualizations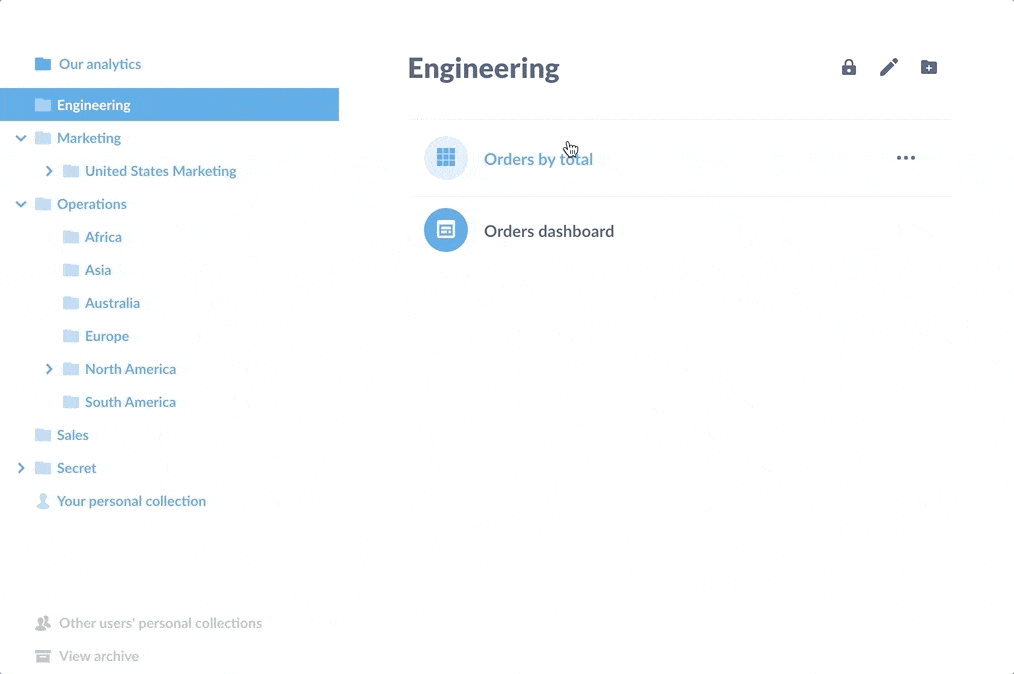 Compared to Tableau, it's far easier to drag and drop tables and visualizations onto Metabase dashboards. You only need to feed the data correctly through a database, and you'll be able to create visualizations by dragging and dropping. There's no way using Metabase isn't fun.
Quick Dashboards Creation
Anyone – yes, anyone – can build dashboards to create visualizations quickly. They need no experience at all to use Metabase.
The software offers suggestions on which to base visualizations. In other words, Metabase may suggest calculating the standard deviation of the total order per customer account and promptly calculating it for the user.
Your organization will significantly benefit from using dashboards created in Metabase and data analytics services. It will enable you to optimize business processes to fuel growth and the bottom line.
Supporting Platforms
You can deploy Metabase on Mac and Windows desktop systems. But, open-source culture is to do more with the power of community. So, you also get mobile support on iPad, iPhone, and Android platforms.
By contrast, Tableau offers a web application besides Mac and Windows editions of the software. But, it has yet to adapt support on any mobile platforms (as of the time of writing). It could change anytime as competition in the business intelligence industry grows.
Note that the Metabase community is only just beginning to grow. It needs some time to find the level of community support, documentation, and training that Power BI and Tableau have built up over the years. However, as many successful open-source projects have proved, it's only a matter of time.
The following charts summarize the pros and cons of Power BI, Tableau, and Metabase. You can quickly see why businesses like yours are switching to Metabase.
Tableau
Power BI
Metabase
Trial
Free trial available
Trial available
More affordable compared to similar solutions
Price
High price point for paid editions
Lowest priced edition costs $10 per month
$85 per month subscription
Usability
– Easy to use
– Simple setup
– Accessible UI
Clunky interface
– Suitable for beginners
– Easy to use
– Intuitive UI
Version Control
Features version control, though of a limited taste
Offers free Power BI Version Control Download for local editing and version control for PBIX and PBIT files
Global caching available in all editions
Analytics & Reporting
– Extensive analytics
– Extensive reporting
– Decent analytics
– Multi-perspective reporting
– Limited analytics
– No benchmarking
Deployment
Multiple deployment options
Multiple deployment options
Multiple deployment options
Graphing
Extensive graphing capabilities
Extensive graphing capabilities
Extensive graphing capabilities
Resources
A vast library of documentation and training resources
Good documentation and community support
Limited training options and resources, but a steadily growing community
Platform Compatibility
Mobile-friendly
Web, mobile, & desktop
Web-based tool – mobile friendly and can be accessed from a desktop browser
Goodbye Power BI & Tableau, Welcome to Metabase
The choice of a suitable business intelligence platform to store and analyze data across the entirety of your organization is an essential one. The market is full of popular products like Microsoft Power BI, Tableau, and others. But Metabase offers many of the benefits they offer, and its drag-and-drop style is relatively easy for even non-techie users.
You definitely should consider migrating to or adopting Metabase. It'll help your teams to store data, analyze it, and generate reports for your customers to understand platform performance.
The dashboards you build with Metabase allow you to analyze your operations rapidly. Whether you want an open-source – free forever – solution or an Enterprise platform, the self-hosted and Metabase Cloud solution works for everyone. You can get started with modern data analytics and visualization here.