When it comes to doing any research or project, data acquisition plays a huge role in identifying the factors that can help you achieve your goal. Understanding how a system works and developing effective strategies can be difficult without significant data.
This is why data acquisition is an integral aspect that should be given enough importance. This guide will provide you with relevant insights about the importance of data acquisition, tools, and strategies that can help your startup business thrive.
In this article, you'll learn about:
What is data acquisition?
How do companies acquire data?
What tools are used to acquire data?
Why is data acquisition important and what can it get you?
What are the different strategies of data acquisition?
Need help developing a data acquisition system for your business? We can help! At Iterators, we design, build and maintain custom software solutions that will help you achieve desired results.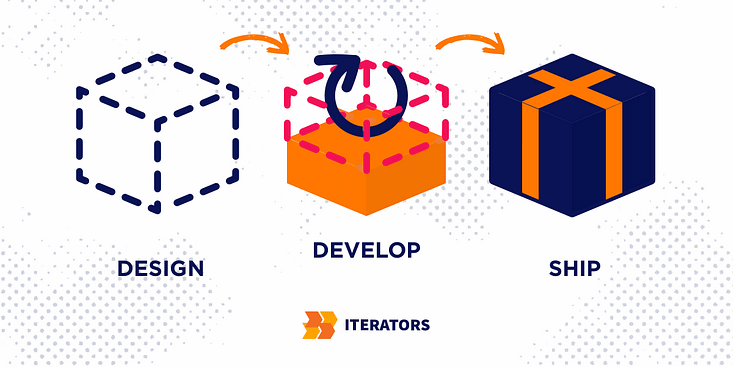 Schedule a free consultation with Iterators today. We'd be happy to help you find the right software solution for your company.
What is Data Acquisition?
Data acquisition (DAQ) is the process of collecting data from real-world sources so that it can be examined, processed, and stored in a computer system.
The method of measuring the temperature of a room as a digital value with the use of sensor technology is a common example. Network connectivity, data analysis and reporting software, remote control, and monitoring options can all be incorporated into modern data acquisition systems.
How do Companies Acquire Data?
It's not a secret that one of the most significant resources available today for businesses is data. You can better understand your consumers' interests, goals, and demands if you have more information about them. This improved knowledge enables you to fulfill and exceed your clients' expectations by developing marketing strategies and actual products that resonate with them.
Businesses use different ways to acquire data. If you are unfamiliar with any of these methods, we've listed some of the most common ones below:
Archival research
Interview/focus group
Experiment
Survey
Observation
Ethnography
Secondary data collection
Furthermore, it is also worth noting that the way companies acquire data depends on their objective or purpose. In other words, there is no one-size-fits-all method that you can use to obtain relevant and targeted data.
For instance, surveys are incredibly effective when it comes to collecting information from specific respondents to generalize the findings to a broader audience.
The utilization of records and documents, on the other hand, involves examining a company's existing records and documents to track or forecast significant developments within the business.

The capacity to contextualize data and pull new insights from it is also growing in tandem with the proliferation of data acquisition and analysis tools among businesses.
For example, artificial intelligence is a vital tool for data acquisition, analysis, and storage that many organizations are utilizing nowadays for a variety of reasons, including establishing a deeper understanding of daily business operations, making more educated business decisions, and knowing more about their consumers.
The four major types of data that companies collect are Personal data, Engagement data, Behavioral data, and Attitudinal data.
Personal Data
Personal data acquisition is a tricky area. Some rules make it illegal for online businesses to acquire some personal data unless the customer consents.
However, in a commercial transaction, simple personal information such as name and address is required. and User data can also contain gender, as well as IP addresses, device IDs, and web browser cookies, all of which are non-personally identifiable data.
Engagement Data
If you want to get the most out of your data acquisition efforts and tailor it to your startup, you need to know how your visitors and receivers interact. It is pointless to create a targeted marketing effort and then let it operate on its own.
Machine learning apps come in handy in this situation because it is impossible for one individual or a team to correctly evaluate enormous volumes of data in a short amount of time. Artificial intelligence software may perform the work for you, converting numbers into the data you want.
For instance, you can measure the results of the following questions:
What is a customer's reaction to your business website?
What pages are they looking at, and how long are they browsing through each of them?
What level of interaction do your targeted advertising generate, and how much attention does your brand message marketing attract?
As a business owner, you care about how customers interact with all of the above and emails, social network sites, and sponsored advertisements.
Behavioral Data
In many aspects, this is related to engagement data, but it may also be regarded as a study of data that is not related to website activity. Past purchases, for instance, might be a good predictor of a customer's behavior.
Do they repeat purchases or do they keep returning to the same page and are not taking action? Which of your social media outlets do they reply to the most, and where do they spend the most time on your website?
This sort of data enables you to provide customized messages, tailored content, personalized emails, and targeted advertisements to certain groups of clients who may regularly visit the same page or purchase the same or comparable products.
Attitudinal Data
This is a challenging aspect of data acquisition, yet it is remarkably insightful. When we discuss attitudinal data, we are talking about satisfaction levels and how your products affect and entice consumers. It is also about what motivates people to purchase a certain product or service, and why they choose you over your competitors
What tools are used to acquire data?
Data is collected around the clock nowadays. The existence of smartphones, wearables, and other data acquisition devices have made gaining access to information become a breeze.
For example, computers can now recognize your voice using a microphone, your face using a camera, and your biometrics using a smartwatch. They can also track your internet browsing history using cookie technology, accurately tell your exact location using GPS tracking, and record your financial transactions using modern applications.
And because business research is conducted in a variety of methods and for a number of reasons, it is critical to choose the right tools to use.
Data acquisition aims to gather high-quality information that can be analyzed to produce persuasive and reliable responses to the questions addressed.
The following tools can assist you in acquiring data when conducting research for your startup:
DATAQ
'Data Acquisition Products for ANY Application and Budget' is the core premise of this program. From prepared to-raced to programming setups, DATAQ Instruments supports all aspects of data collecting software.
Many people have noticed that WinDaq information collection programming, which is supplied with the majority of equipment, readily acquires, displays, surveys, and sends out data without the need for sophisticated programming.
The ActiveX control and speck net classes supplement programming requirements in most popular computer languages, making it simple to use.
WINDAQ Software
WINDAQ programming is compatible with all DATAQ Instruments devices. Both chronicle and playback programming are included in the WINDAQ programming package.
The chronicle programming captures waveforms to plate in a specified and consistent manner while monitoring a live display of the waveforms on your computer screen.
The WINDAQ/Lite Recording Software restricts the highest throughput to 240 Hz when in RECORD mode. WINDAQ/Pro Recording Software has an example rate that is only limited by the equipment's most extreme example rate.
VTI Instruments
VTI Instruments is another excellent data acquisition program for Computerized Acquisition Systems, Digital Electronic Systems, and Data Monitoring. EXLab-based frameworks are a combination of sophisticated, turnkey software and precise instrumentation designed to solve your toughest problems in validating electro-mechanical item structures.
FlukeCal
Fluke Calibration provides a highly adjustable and configurable application as well as a progressive data acquisition tool that communicates with all Fluke data acquisition products.
Clients can make use of features such as remote web survey and control, email caution alerts, sophisticated math ghost channels, and in-program inclining. It is ideal for organizing one or more instruments in a single design with anywhere from a few channels to over 2,000. Thanks to the intuitive UI, getting the information you need is a simple task.
DAQmi
DAQami provides clients with an easy interface that allows them to quickly and easily get familiar with the features of the data acquisition device, collect data, and produce signals. As a result, DAQami is an excellent data collecting tool for intelligent testing, information logging, and developing programs that may operate for hours or even days at a period.
National Instruments
National Instruments is a company that specializes in test, measurement, and embedded systems. National Instruments, a pioneer in PC-based data acquisition, offers a comprehensive range of proven data acquisition apparatuses and advanced, simple-to-use programming covering a wide range of dialects, transports, and operating systems.
DASYLab
DASYLab information acquiring (DAQ) programming enables sophisticated applications to be created quickly and efficiently without the need for programming. The software includes continuous examination, control, and design tools for creating bespoke graphical user interfaces (GUIs), and it supports most MCC devices as well as equipment from more than 20 suppliers.
Data acquisition systems are not perfect. However, compared to the advantages, the flaws are generally minimal. One apparent disadvantage may be the complicated setup required for some systems. The price of hardware and software might be considerable.
All apps and programs are affected if the database is lost in the unfortunate event that it is compromised. Moving from a file-based system to a database-based one incurs expenses. There is also the initial training that programmers and users must go through.
Why is data acquisition important and what can it get you?
Data acquisition is extremely vital in industries like civil engineering, life science research, and industrial maintenance, to mention a few. You will find some form of data acquisition system discreetly measuring and monitoring one or more parameters in each steel mill, public utility, or research facility across the globe.
The information obtained can be utilized to boost productivity, assure dependability, or guarantee that business machinery is running properly.
All of the mentioned industries are counting on this type of technology since it offers them numerous benefits. Here are some of them:
Problems are studied and solved in a shorter amount of time. Measurements are created and shown in real-time using real-time data acquisition systems. Thus, businesses may use real-time data acquisition systems to take measurements and show the results in real-time. In the age of technology, this also enables a technician to respond swiftly when a problem arises, allowing their equipment to work at its best.
Increased dependency on other applications and data integration. In a more flexible and efficient process, the fewer programs that interfere, the more responsive it will be. Without needing to depend on other types of applications, a DAQ system assures that the information is comprehensive and accurate.
Processes and machinery become more efficient and reliable. Data acquisition devices are utilized in a variety of settings, including research institutes, steel mills, and utility corporations. A predefined parameter is evaluated and monitored by these devices. The data collected by data acquisition devices may then be utilized to ensure that machinery is safe to run, that specified procedures are completed effectively, and that results are consistent.
Data entry was done manually in the past. Today, automation is used in data acquisition systems, which reduces human error. Furthermore, keeping information stored digitally is less expensive, takes up less room, and can be accessed virtually in an instant. The data is also inputted more quickly. In other words, errors are less likely to happen compared to when individuals are performing the work manually.
Data acquisition tools can ensure that a system is following design specifications and that what is being generated satisfies the needs of the end-users. It enables products to be evaluated to ensure that they fulfill the marketing quality requirements. Defective products can simply be discovered, and flaws can be remedied. Without human intervention, the entire procedure can be traced, analyzed, and controlled.
What are the different strategies of data acquisition?
You will experience unnecessary delays and inefficiencies if you regard data acquisition as an ad-hoc operation every time you perform it. You will squander time seeking links and perhaps overspending on datasets of minimal worth only to get to the sliver of genuinely useful data.
That is not a viable option. It is not feasible from a financial standpoint, especially if you're running a business. This is why, in order to get that process perfect, you will need a well-thought-out, tried-and-tested data acquisition strategy.
Limit the Domain
The majority of companies will attempt to get data directly from users. The primary challenge is to persuade new customers to utilize the product before the machine learning benefits completely materialize.
One strategy to get past this is to limit the problem domain considerably and expand the scope later if necessary to do so. Take note that the amount of information you require should be proportionate to the scope of the problem you are attempting to solve.
Chatbots are another good example of the advantages of a limited domain. Startups in this space have two options for going to market: they can develop horizontal assistants.
For example, bots can answer a huge series of questions and respond to urgent requests. Or they can construct vertical assistants or bots that can support a limited number of queries and demands.
Manual Effort
Creating a decent proprietary dataset from the ground up generally demands a lot of human labor in data collecting and non-scalable manual tasks.
There are several examples of companies that started with sheer force. Many chatbot startups, for example, utilize human "AI instructors" who manually construct or check the projections made by their virtual agents.
Moreover, manually labeling data sets using sheer force can be a viable technique as long as data network effects kick in, causing people to no longer proliferate at the same level as the client base.
Undefined aberrations become less common when the AI system improves quickly enough, and the number of people performing manual labeling may be reduced or kept consistent.
Data Mining
Data mining leveraging publicly available sources is a data acquisition strategy that many entrepreneurs have pursued – with various levels of success. The Common Crawl, for example, has petabytes of free raw data accumulated over years of web crawling. Furthermore, corporations such as Yahoo and Criteo have made large datasets available to researchers. Furthermore, given the recent growth of publicly accessible information online, tons of data sources have now become available. Some of the most utilized data sources today include:
Websites
Social Media Profiles
Customer Service Records
Transaction Data
Third-Party Data
B2B Collaboration
For startups, the data source can be a significant customer that gives access to crucial data. In this approach, the company provides the client with a solution to a problem (e.g. fraud detection) and uses the customer's data to train its learning algorithms.
Ideally, the data takeaways from one customer or instance should be transferable to all subsequent clients. The difficulty with this strategy is negotiating upfront that the startup will own the data insights while the data itself will remain the customer's property.
This can be a concern since major firms frequently have strict compliance policies and are wary of releasing private information.
Data Trap
Another way to acquire relevant data output is to create a data trap. The idea is to produce something worthwhile even if it does not use machine learning, and then sell it for a profit in order to collect data (even for a tiny margin). In comparison to the preceding technique, creating a data trap is an integral aspect of a startup's business strategy.
Side Business Approach
Offering a free, domain-specific smartphone app that targets consumers appears to be a common strategy among computer vision businesses.
For example, Clarifai, HyperVerge, and Madbits followed this model by developing photo applications that collect more image data for their primary businesses. This method, however, is not entirely risk-free.
Startups must also ensure that their use proposition is compelling enough to persuade consumers to provide their data, even if the service does not profit from data network effects at first.
Conclusion
Every business startup must understand what data acquisition is and use the right data acquisition tools, including the finest software for their needs. Every company has its own set of standards. You must first compile a list of the needs.
Data Acquisition has grown over time and can now measure and evaluate many features of a physical or electrical occurrence. Thanks to regular upgrades in both the hardware and software areas, these systems have remained up to date. that your company has. Then determine which solution best meets your specific needs.