Every year thousands of startups and enterprises launch their products with the hope to earn billions of dollars. They hire top-notch developers and marketers to make sure the product reaches the right audience.
Still, most of these startups fail within the first 5 years. One of the major reasons is the lack of clarity about the consumer's expectations and performance of the product.
Customers have an important part in the success of your product. They decide how long your product will last as well as how much money it'll produce. But how can you stay on top of everything? That's where product management comes into play.
Organizations hire product managers to make sure the voice of the market is heard and the consumers are advocated.
What is Product Management?
Product management is an organizational role that is critical to the creation, definition, delivery, monitoring, and refinement of products. It supports every step of the product lifecycle from idea to pricing and launching.
Product Management advises the business on how to best allocate its resources to provide competitive goods that meet market demands. Then it collaborates with other departments to assist the company in achieving its goals.
The ideal strategy to create a successful product is to hire a product manager who will act as the customer's voice. When you design a product with the client in mind, it'll perform better than its competitors. A product manager will oversee all parts of the product and guarantee that it's published on a regular basis. Also it'll help in keeping up with technological changes and updates, as well as adding new features for consumers.
Without it, it would be a challenge for businesses to find out what their target audience needs in order to develop an effective product. This is why the position of a product manager is so important.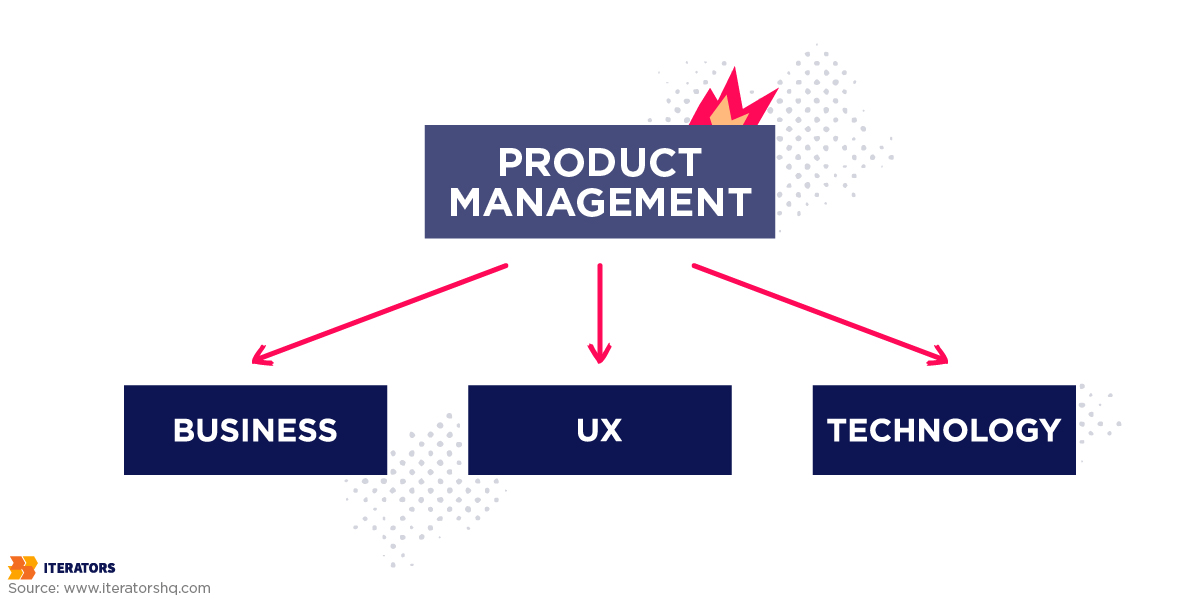 Product management, according to Martin Eriksson, is the convergence of business, user experience, and technology.
Business — Product management bridges the communication gap between the developer, designer, the customer, and the management, allowing teams to meet their business goals.
UX — Product management is concerned with the customer experience and serves as a representative of the consumer within the company. The way this concentration reveals itself is through great UX.
Technology — Product management takes place in the engineering department on a daily basis. It's critical to have a good grasp of computer science.
Key responsibilities of a product manager
The primary goal of a software product manager is to assess and understand the demands of consumers. Product manager should strive to surpass customers' aspirations and be on the cutting edge of innovation.
The primary duty of a product manager varies based on the company's size and requirements. For example, when a group of product managers works on a product in a huge corporation, it becomes difficult to get all of the parties to agree on the conclusions or survey results. Product managers at small businesses, on the other hand, spend more time managing the resources.
To help you understand this better; we have listed out the key responsibilities of every product manager:
Developing a strategy
Strategic planning is putting out significant investment areas so the product manager may prioritize what matters most. You're also in charge of the product roadmap. Which is a visual representation of what you'll produce and when. A product manager is in charge of defining the vision and strategic direction of your product at the highest level. Product managers must be able to properly describe the business case for a particular program or feature so that your team knows why it's being developed.
Considering a concept
The product manager handles the concept management process of the product owner. Then he or she decides which concepts should be elevated to your plan in order to progress the product strategy ahead. Product owners also ensure that customer input and requests are included in product planning and design procedures. Product manager updates your clients, partners, and internal co-workers on the status of ideas they contributed.
Launching a Product
Product launProduct managers integrate strategic plans into work plans, determining what will be built and when it'll be released. You're in charge of the launch process and cross-functional requirements, as well as all of the actions that go into bringing new products, innovations, and performance to the marketplace.
Tactical roadmaps are created and shared
A product roadmap depicts how your product will fulfill your business goals and aids in project management. A product manager may make a variety of various sorts of roadmaps based on who you're speaking to and what you're trying to say. Executives are more interested in high-level planning, but engineers and designers have to know the scheduling of critical tasks.
Features that should be prioritized
Product managers rank features against strategic goals and activities to determine their priority. You'll have to make difficult decisions depending on the value that new feature will bring to your consumers. You're also in charge of setting feature needs and the user experience the product manager wants to achieve. A product manager works collaboratively with engineering on technical requirements and makes sure that teams have everything they need to bring a full product into the market.
The difference between Product and Project Management
Product management and project management are sometimes used correspondingly. Product management is the duty in charge of overseeing the product's lifetime. From its conception to its introduction to the market, acceptability, and ultimate retirement. There is no set schedule because it'll be determined by the product's commercial success.
The role of project management is concerned with the practical production and implementation of the product. It has a set deadline and is a one-time project that ends when the venture is finished and the product is given to the customer. The project's life cycle is divided into five stages:
commencement
strategy
implementation
monitoring and control
conclusion
A software product manager is the one who determines a product's what and why. They're in charge of guaranteeing that all new products or functionalities meet the demands of customers and the company's goals. Project manager, on the other hand, concentrates on the how and when of a project.
Being a product manager necessitates product knowledge. That is, having the insight to recognize when to shift a product from alpha to beta testing. When to postpone a rollout due to a defect, and when to delete a product or portion of it because it no longer makes financial sense.
Product managers are also in charge of a product's profit and loss function. That's why they work closely with the sales, marketing, consumer experience, and support personnel.
The project managers must take the product manager's concept, create a project timetable and schedule tasks for the project team in order to meet crucial milestones and goals. Their job is to effectively complete a project within the agreed-upon price, schedule, and quality. One assignment at a time.
The project manager may also obtain user needs. He or she'll have little role in formulating and prioritizing them, as well as assisting the product manager in developing user requirements. This informs them that the team's guidelines are as transparent as possible so that they may readily follow them.
Consider a clothing retailer that operates solely online. They intend to release a mobile app that users may use to explore merchandise. The firm may appoint a product manager to oversee the app's evolution. The product manager will establish the app's objectives, determine which technologies should be included, oversee a group of product developers, and keep track of new difficulties as they occur.
The product owner may then engage a project manager to help them achieve their objectives. Let's assume the product manager discovers that when buying a product, consumers want to talk to their friends about it, and decide to make this a main feature of the app. A project manager may be in charge of launching a functionality on the app that allows users to message each other about pieces they like.
The project manager may assemble a team devoted to the new feature, establish a production plan, and oversee the team's completion of a project. Meanwhile, they may communicate with the product manager a few instances a week to provide progress reports.
While product managers and project managers are two distinct jobs, they regularly collaborate in order to produce a successful project. Both jobs are focused on the product. They strive to increase product value, improve customer happiness, and produce high-quality products on schedule and within budget. They must both be able to communicate more effectively, as well as possess excellent organizational and administrative skills. Competence and proper training are essential for both professions.
Benefits of Product Lifecycle Management
Every product has a life cycle that is analogous to the cycle of life in certain aspects. The first is the manufacturing, processing, or harvesting stage. During which the product is created, processed, or harvested. The product then passes through four major stages in its life cycle:
introduction
development
maturation
demise
Taking crucial decisions
When you're faced with a number of possibilities, you'll need additional information to decide which path to pursue. Since it contains sales data as well as performance data, the product life cycle assists managers in making such decisions. The confluence of these two can aid managers in making quick judgments.
Competitive edge
In addition to managing their own product life cycle, a marketing executive can also control the life cycle of rivals' products. This offers a decent idea of what the participants must be dealing with in terms of planning. As a result, the company doing the study has a strategic advantage since it's always relevant and competitive.
For example, a competitor's product is in the early stages of development, while your product is nearing maturity. The mature product begins to advertise and attract customers, preventing the fresher product from taking off.
Ease at planning
The most important advantage of the Product Life Cycle is that it may assist a product manager in defining the tactics that can be implemented based on the life cycle stage. So, if a product is in the growth stage, it'll require a significant amount of advertising and expenditure to maintain it there. As a result, the Product Life Cycle makes planning easier.
Predicting sales
With enough expertise, predicting how a software product will progress through the product life cycle and, as a result, what sales levels it'll accomplish becomes simpler. For example, when Apple introduces a new mobile phone, it anticipates that the device will expand for 5 to 6 months. Then achieve maturity, and begin to decline as people look for other devices.
Product management tools
Prioritizing
A Product Manager must be able to see both the good and bad aspects of a situation. They must be able to prioritize when something isn't working. This is an extremely useful skill. If the product manager works alone; he or she'll save time & expense. Tools like GridRank, Trello, Hygger, etc are important tools that help the product manager in prioritizing. A quick peek at a colorful Trello board informs the product manager what's been accomplished so far, what's in the works, and what's still to do. A Trello board looks like a whiteboard, except it's full of colorful sticky notes, each of which represents a task for both the manager and your team.
Sprints
This technique is applied in a variety of professions. Product Managers can make use of tools from other fields. Tools like Agilean and Binfire are adequate for small and medium-sized businesses.
Asana has a lot of features for larger companies. While Planbox integrates areas for multiple teams to operate on the cloud. A product manager must identify the priorities. Would you rather spend your money on a more robust, complicated product management system? Will you promote your Sprint with a combination of freemium applications and more standard mail, analytics, and PowerPoint tools?
Prototyping
Before a product manager can reach full bloom, he or she must first demonstrate that your product concept can be transformed into reality. As product managers aren't the ones who create wireframes, they'll choose solutions that make their job easier. Software products that make getting feedback and communication simple. More and more technologies are developing as the relevance of user design and pleasant consumer experiences grows.
In fact, the variety of web-based apps accessible has increased as a result of their appeal. Yet, some are a little iffy when it comes to usage. The majority of people are using multi-purpose applications for whiteboarding, developing, and prototyping. Once product managers learn how to control products on a whiteboard, a product manager can utilize a virtual whiteboard. Miro is a fantastic tool for visual collaboration. You'll have to master how to employ a whiteboard for collaborative brainstorming prior to getting going with Miro. This is required in case the product manager hasn't adopted whiteboard or Miro already.
If you're searching for a multi-purpose tool that's also good at prototyping, we recommend Figma. At the outset of the epidemic, Figma, like Miro, swept the product world by storm. The comment function, which allows teams to offer comments immediately on the same edition, is the most well-known aspect of this simple design tool to make prototyping simple.
Roadmapping
This is a primary task in Product Management. While PMs are famed for their adaptability, charting your course reveals the stakeholder's negotiating skills and data-driven strategy. In the implementation of a strategic plan, a product roadmap is critical. Local teams will be required to follow the plan and concentrate in order to achieve business goals. Team workers can schedule a task list for the following several days or weeks with the use of roadmaps. Teams will be able to predict when a feature or task item will be released. A roadmap helps clearly explain the product's progress and updates to external partners.
Productboard, based on what we've heard from product managers, favors 'keeping things simple'. AHA is also beneficial and is founded on good conceptual underpinnings regarding how product managers operate. Airtable, airfocus, and Roadmunk are also popular among product managers, so keep them in mind when choosing an application for the roadmap.
Project Management
There's a chance to bring your solution to reality once you've decided what you want to provide. PMs must keep track of the features being produced by developers during the development period. The idea is to use technologies that enable them to duplicate and assist engineering and technology teams' agile methodologies lifecycles.
Product managers need a smart tool that indicates precisely what they have to do to get back on the right track, both graphically and in relation to the data if the product manager wants to maintain the backlog down.
Any of the above-mentioned planning tools can be used to manage tasks. Keep in mind, though, that some tools are better suited to specific techniques. They might not be beneficial for your team if the product manager doesn't deal with small groups, for example. JIRA is a great illustration of this. Several of the world's best combos are Confluence, a cooperative information wiki, and Jira, an issue- and mission-tracking software. It's possible that you'll need to teach your workers to function at full pace. ClickUp, an all-in-one solution for people management, programs, and everything else in between, comes highly recommended.
Data Analytics
Without data, a Product Manager is worthless. Even if your instinct is founded on years of experience, you'll get nowhere without reliable analytics. Data is one of the most important tools in a Product Manager's toolbox since it's utilized to make decisions, defend decisions, and test hypotheses. Data may be used to improve almost every aspect of a product manager's work. As a result, while searching for management solutions, there will be a plethora of possibilities to pick from.
Google Analytics is a free and simple tool for tracking web analytics. But if a product manager wants to go deeper, we prefer Mixpanel, which allows the product manager to analyze user engagement and do A/B testing. It stores records of every user activity instantly, allowing for real-time analysis.
Because of its free strategy, Amplitude is a common pick among early-stage entrepreneurs. While larger businesses appreciate its power and quickness. Pendo is well-known for its ease of use, which makes it an ideal option for cross-functional collaborations.
Conclusion
The global software products market has witnessed a growth of 4% compound annual growth rate (CAGR) from $930.93 billion in 2020 to $968.25 billion in 2021. And it's expected to grow further at a CAGR of 11% to reach $1493.07 billion in 2025. Among the major causes for this is that too many items aren't adequately equipped for the marketplace. Economic problems frequently result from ignoring one component of product development while focusing heavily on the other. It's feasible to avoid such effects and boost the possibilities of a product's success in the market with good product management.
Product Management serves as a fundamental repository for product and market data for Revenue, Advertising, Production, Help, Finance, Administration, and other departments. Each department creates its own vision of market realities, product attributes, and product offerings development in the absence of this center.
Users, the industry, technology, competitors, platforms, press, experts, market dynamics, etc must be considered in order to succeed. These are all areas in which product managers take it on themselves to be established as acknowledged experts.
They have a real direction for their products and build strategic approaches that are in line with the company's objectives and guarantee that time, budget, and effort are wisely spent. Product Management is needed to sustain the existing product portfolio while guiding activities that prepare the company for future prosperity. This will generate a parallel perspective of the operational current and conceptual future.