"I hate my job."
How many times have you heard people say that?
In the world of business, the status quo is to grow and make lots of money. And sometimes that comes at the expense of your employees.
Focusing only on the bottom line often leaves employees feeling exhausted and aimless.
Why even bother working?
But what if there was a way to make money and make your employees say, "I love my job!"
Well, there is.
Businesses who focus on employee training and development are finding that putting the employee first is a win-win situation.
They get to keep growing and making money. And employees feel like what they're doing is meaningful.
That's because most of us actually want to contribute to something through work. And most of us want to develop ourselves along the way.
That's why this article will go in-depth on topics like:
Why employee training and development is important.
How to choose the right employee training program.
What the most popular training methods are and how to track them.
Are you interested in taking your employee training ideas to the next level? You may want to consider a custom Learning Management System (LMS). At Iterators, we design, build, and maintain custom software for startups and enterprise businesses.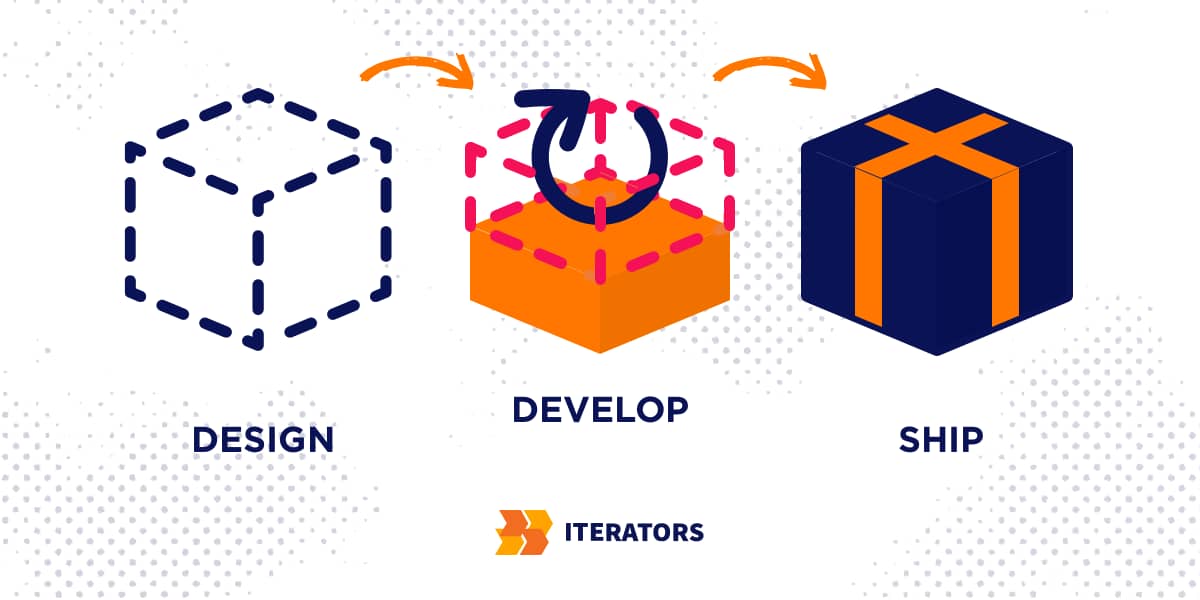 Schedule a free consultation with Iterators today. We'd be happy to help you find the right software solution to fit the learning and development needs of your company.
What is Employee Training and Development?
Everybody and their mama have a pretty good idea of what employee training is.
It's self-explanatory.
Dwight is the new Assistant to the Regional Manager. You need to train Dwight.
His employee training checklist might include:
Company Infrastructure
Writing Reports
Products & Services
Company Policy
Employee Compliance Training
Boom. Dwight is trained and you never have to think about it again? Right?
Not quite.
The main problem most companies face with employee training is forgetting that it's a small part of a bigger picture known as employee development.
So what exactly is employee development? How is it different from employee training?
Just to be sure, let's clarify:
What is employee training?
Employee training is an educational program run by an employer. There are several types of employee training. Yet, the purpose is always the same – to provide knowledge and the necessary job skills. Doesn't matter if it's for a new hire or an experienced employee.
What is employee development?
Employee development is a complex and ongoing process. While employee training is often a one-off event, employee development can span over the course of many years. It comprises all employee trainings and learning situations. You can look at it as the journey your employee must make to reach their full potential.
Okay, so let's go back to our example of Dwight. What would his development as an employee look like?
Over the course of his employment, Dwight takes advantage of the following opportunities:
Coaching/ Mentoring Program
Time Management Training
Leadership Training
Cross-departmental Training
Personal Development Program
Employee Ethics Training
All of the above expand his skillset and contribute to his growth as a professional. His increased qualifications maximize his chances of getting a promotion and becoming Assistant Regional Manager or even Regional Manager.
That makes Dwight happy.
And a happy employee is far less likely to leave your company. But we'll get to that.
What you need to remember is that:
It takes many hours of different types of employee training to add up to employee development. But with the opportunity to learn things that go beyond day-to-day duties, employees can expand their skill sets and become an even greater asset for the company.
How do you hire talented employees in the first place? If you're a nontechnical person, it's especially difficult to hire programmers and provide effective employee training.
So, how do you hire a technical employee? Read our article to find out: How to Hire a Programmer for a Startup in 6 Easy Steps
Why Should You Invest in Employee Training and Development?
Okay, so we know the difference between employee training and development. The next question is – why would you want to spend any money investing in it?
First, let's just say employee training is not some luxurious extravaganza only big, rich companies can afford.
It's a necessity.
Whether you like it or not, you have to do employee training.
And you can do it one of two ways:
You can train Dwight in his immediate duties and leave it at that.
You can invest in Dwight's overall employee development by training him over the course of his career.
So the real question is why should you invest in Dwight instead of just training him once?
To answer that, let's take a look at a list. Employee training best practices can influence:
Employees care about the job that cares about them. The more chances they have for development, the better they will feel about working for you.
It's easier to be engaged at work when you know what you're doing. Employee training provides that confidence.
Effective employee training provides opportunities to learn and grow. Employees who have that are more likely to develop a sense of attachment and loyalty.
A good coaching session can put even the most mundane job into perspective. It's important to show your employees a career path and encourage ambition. That way you can be sure employees who stay in your company are dedicated to the cause.
The link between effective employee training and high productivity is obvious. The better, more thorough the training, the higher the productivity.
Low quality of work is often caused by lack of basic employee training. A solid soft skill/ technical training can help your employees get back on track.
Providing regular stimulation in the form of an employee training program can expand the learning capacity of your workers. The more we learn the better we are at absorbing new knowledge. The best part is that it applies to all sorts of learning situations. Not only the ones we face at work.
Well trained employees are more likely to find solutions themselves. They become more independent, thus freeing up their supervisors to do other tasks.
Making a large group of people get along is not always easy. That's why investing in things like communication training could possibly spare you difficult HR issues.
Sounds good, doesn't it? Well, there's more.
One of the most important benefits that you can get out of implementing employee training and development is increasing your employee retention.
For a long time, employers overlooked the importance of employee retention. The general consensus was that employee turnover is bad for business, but no one really cared to calculate exactly how bad.
Well, now we know.
In the 2019 Retention Report published by the Work Institute, we can find staggering employee training statistics.
The cost of losing a worker in the US is estimated at $15,000.
In 2018, US employers have lost $616 billion to voluntary turnover.
Since 2010, the costs of high employee turnover have nearly doubled from $331 billion to $617 billion.
The good news is most of these costs are controllable. The study shows that 76.8% of all turnover can be minimized by implementing the right employee retention strategies. That means that you can save a lot of money if you know how to keep your employees.
How do you do that? To answer that question, let's look at why employees leave their jobs:
As you can see, career development, manager behavior, and well-being are among the most common reasons that make employees leave their workplace.
All of those things could be significantly reduced with effective employee training programs.
The bottom line here is:
Investing in employee retention is absolutely crucial if you want to have a competitive edge and save a lot of money.
How much money are we talking about?
Work Institute estimates:
For every 100 employees who move their company ratings from fair or poor to excellent, 37 fewer employees would leave in the next year, amounting to $555,000 in savings.
The numbers speak for themselves.
But if you're still not convinced you should invest in your employee training and development, let's take a look at what the future of work is going to look like.
With the current state of development in the field of technology, the way we approach work is changing.
The most powerful future workplace trends will be AI implementation, robotics, and automation. These innovations will likely render some current jobs obsolete. Here are a couple of interesting numbers:
What does that mean for us humans? Will machines replace us?
Yes. But don't be afraid. It will only happen to a degree.
The future workplace will be a merging point for human creativity and machine reliability.
Automation and technology will take over repetitive and mundane tasks. This will allow us to perform more 'human' and imaginative roles.
It is clear that getting ahead of the curve involves investing in revolutionary technologies. But it's not only about that. AI, automation, and robotics still need to be implemented, monitored, and supervised by employees who are trained in using them.
The main point here is that technological innovation and growing skills instability will require employees to learn new things and adapt to new working conditions on a scale much larger than ever before.
That's why it is imperative for any company of the future, to invest in a solid employee training plan. A learning and development infrastructure that will enable:
Effective Employee Training and Onboarding
Retraining and Upskilling
Lifelong Development of Workers
Don't like the idea of hiring someone like Dwight as an Assistant to the Regional Manager? Perhaps you should abandon the idea of human assistance altogether! Check out the article: 4 Amazing Ways AI Personal Assistants Can Impact Your Business
How to Choose the Right Employee Training Program
So, you decided that it's time to get serious about your employee training and development programs.
You want to invest.
But where do you start?
How do you know which method will suit your business best?
Who should you involve in that process?
Unfortunately, there are no simple answers. There are many factors that come into play when you're deciding the future of employee development for your company.
Methods are many and the possibilities are endless. There are, however, guidelines that will help you make the right choice.
Here is a list of three things you need to consider before you decide on a particular employee training plan:
1. Determine Your Training Needs
Identifying your training needs is where you want to start.
To pick the right employee training method, you have to determine what skills and knowledge are missing from your company.
That might not always be as easy as it sounds. Plus, you don't want to act on a hunch here.
Fortunately, there are things you can do to narrow it down:
Talk to Your Managers/ HR Department
Depending on the size and organization of your company, you should work with either your HR department, your managers, or both.
They are the ones that have the most information regarding your employees' current qualifications and skills.
Most of the time, they should already have a pretty good idea about what types of employee training would be beneficial for your company. If that's not the case, don't worry.
There are plenty of methods to figure that out.
Perform a Skill Gap Analysis
A skill gap analysis is a powerful tool that will help you determine the discrepancies in your employees' skill set. It allows you to assess what types of employee training should focus on and where you need improvements.
You can perform a skill gap analysis both on an individual and team/ company level.
Here is what you need to do to carry out an effective skill gap analysis:
Identify the required skill set.
Recognize the importance of particular skills.
Measure current skills.
Act on the data.
Let's revisit Dwight for a moment. After a few years of hard work, Dwight is promoted to the Regional Manager position.
Good for Dwight!
Dwight's first order of business is creating a dedicated employee training and development program for the sales team.
Here is an example of a skill gap analysis he decided to perform to find out what can be done to improve the functioning of that department.
Now, how exactly do you measure the skills?
Well, there are a few ways of doing that:
Employee Survey
Employee Interview
Performance Review
Employee Performance Software – e.g., Trakstar or Skills DB Pro
Pro Tip: Employee performance software is a system that monitors and stimulates employee productivity and engagement by setting goals and providing continuous feedback. It's also useful because it measures and harvests data regarding employee performance.
Conduct an Employee Survey
Another way to find out what your training needs are is to simply ask your employees.
You can do this using employee training surveys.
Remember that to be effective, surveys need to be anonymous. Some of your employees might hesitate to answer truthfully otherwise.
Although this method works well for smaller businesses, startups, or agencies that don't have a dedicated HR department, employee training surveys have many applications in bigger companies as well.
Employee surveys are a valuable source of information about:
How employees feel about their work.
How they see their future development.
What they feel is missing from their skill set.
Here is an example of an employee survey that provides data regarding employee satisfaction. That information can be used to create an employee development program that stimulates engagement and improves employee retention:
Pro tip: Creating a customized employee survey is really easy. But if you don't want to do it yourself, there are many online solutions offering employee survey creation as a service. Here are three examples to check out – Typeform, Officevibe, and Survs.
2. Find Out More About Your Employees
Another thing to keep in mind when creating an employee training and development plan is your audience. Take a good hard look at who you're training.
Are your trainees old or young? Does that make a difference? Can you use a generalized approach or do you need to make adjustments for different groups?
Regardless, you'll want to pinpoint defining characteristics of your target training group. That way you can better assess what methods to use.
Tailoring an employee training program to the target group's capabilities allows you to maximize the efficiency of their learning experience.
For example:
Older employees might respond better to traditional training methods like the classroom or practical training. Younger employees, on the other hand, might have a much easier time learning through an online course or by watching an employee training video.
Personal development programs will have a different focus when directed toward a group of executives as opposed to entry-level employees.
If your employees travel a lot, organizing a classroom-style training will be pointless. Instead, you should consider implementing an online training program.
So, let's say your company is big and you don't know all of your employees.
How do you access that information?
An employee survey, yet again.
Here are a few things you might want to find out about your employees:
Age
Position in the Company
Work Experience
Current Responsibilities
Scope of Interests Outside of Work
Again, remember to make sure the survey is anonymous. You don't want your employees to feel discriminated against for things like their age or activities outside of work.
3. Figure Out Your Limitations
Finally, the least favorite part. The limitations.
When it boils down to the will itself, surely all employers would like to provide their workers with the best employee training programs out there.
Unfortunately, in real life, there are other factors that verify what can be done and what is out of reach.
Let's take a look at what elements shapes those constraints:
Global spending on learning and development stays high.
According to the latest Workplace Learning Report by LinkedIn, talent developers are consequently facing fewer challenges in terms of securing enough money for the training and development of their employees.
That's great news!
However, it's not possible to evade the fact that a tight budget can seriously limit your ability to implement the right employee training and development program.
What you want to do before you get your heart set on a particular employee training schedule is to make sure it's within your financial means.
Remember that some of the training methods require:
Hiring a professional instructor.
Renting a dedicated space.
Investing in building an LMS system.
Investing in creating a specific training module within your LMS system.
That's why it's important to plan everything out in advance. Be aware of all the necessary employee training costs. Expenditures associated with the training method of your choosing can vary significantly.
Side note:
The average training cost per employee in the US is $986.
When the money is tight, you should make sure that you're using all the employee training resources you have in-house.
Practical, hands-on training, classroom training, even interactive training to a point, can be carried out using your higher-ranked workers, managers, and supervisors.
Time and Space Constraints
Effective learning requires dedicated space and time. You can't train your employees in a crowded, noisy open-space. Nor can you squeeze 30 people into a mid-sized room and expect them to focus on the training.
You need to make sure that you provide your employees with an appropriate learning environment and enough time to cover the topic of training.
A dedicated training space should have:
Comfortable Seats
Bearable Temperature
Low Noise Level
Space to Move Around
Necessary Equipment
As you can see, all of the above matters when you're trying to figure out what training method is best for you.
Once you're done getting all that information, the next move is finding out more about different employee training methods.
Pro tip: Discourage the use of social networks during the breaks. Experts state that constant engagement with social media reduces the student's ability to focus and learn effectively.
The 4 Most Fundamental Types of Employee Training Methods
When it comes to choosing employee training methods, there are a couple of things to consider.
First, there are different types of employee training methods.
Second, every training method lends itself better to a certain kind of topic.
Examples:
Traditional classroom/ lecture training isn't going to work well if you use it to train people on how to make pizza in your restaurant. In a scenario like that, hands-on, practical training is going to render much better results.
An e-learning module training employees on the subject of communication will not have the same practical benefits as a classroom-style training in the form of a discussion.
It's important to assess your needs so that you can choose the right methods of employee training for various learning situations.
Here are the most fundamental employee training methods:
Classroom Training
Interactive Training
Practical Training
E-learning
Classroom Employee Training
We are all too familiar with this style of learning. We all went to school or university at some point. It is a solid and proven method that's been around for ages.
Even though it might not always be the most effective, it is still the most popular.
Here are a few hallmarks of classroom training:
Takes place in a classroom (duh).
Transfer of knowledge happens between the instructor and a group of trainees.
Typically takes the form of a presentation, talk, or lecture.
Let's look at the pros and cons of that employee training method:
PROS:
Enables interaction with the instructor and other trainees.
Employees can ask questions and discuss some of their more problematic issues.
A better understanding of the studied material.
Provides a safe environment that allows the employee to ease into his job without the stress of being thrown into the deep end straight away.
Classes can cover a wide array of different topics.
Fairly cheap and easy to organize.
CONS:
Hard to make it interesting and engaging over extended periods of time.
Low level of knowledge absorption.
Talented employees have to learn at the same pace as the rest of the group, which means wasted potential.
It's one-dimensional.
The theory-based nature of classroom training means it's not the best environment to learn practical skills.
Capacity limit – you can only fit so many people in one classroom. So, if you need to train a whole company on a certain topic, it might not be the most time-effective method.
How to set it up:
Smaller Groups
Qualified Instructor
Theoretical Subjects
Condensed Knowledge – e.g., max a few hours of lecture time.
Examples of employee training topics that go well with this method:
Diversity
Safety
Employee Ethics Training
Employee Compliance Training
Time Management
Interactive Employee Training
Bears some similarities to Classroom Training, but is a lot more effective. This employee training method uses techniques that inspire real interactions and put the trainees in a more proactive mindset.
That means that skills and knowledge are being developed more naturally, through participation in:
Role-playing Scenarios
Games
Quizzes
Discussions
Simulations
VR Training
Let's look at the pros and cons of that employee training method:
PROS:
It's highly effective.
It's pleasant and engaging.
High level of knowledge absorption.
Interaction between the participants inspires a multi-dimensional learning experience.
Helps to build good relations between your employees.
It can be treated both as training on a specific subject and a team-building exercise.
It inspires creativity.
It has a wide application.
CONS:
It's time-consuming.
It can be hard to develop and maintain.
It needs a highly skilled moderator.
It's only effective in smaller groups.
Shy employees can have a hard time with this method.
How to set it up:
Smaller groups.
Highly qualified moderator/ instructor.
Depending on the topic choose the form of interaction.
Implement when employee training requires:
Team Effort
Memorizing Large Portions of Material
Client Interaction or Audience Training
Examples of employee training topics that go well with this method:
Leadership Skills
Communication
Public Speaking
Employee Sensitivity Training
Teamwork
Employee Engagement Training
Employee Customer Service Training
Practical Employee Training
This method is the usual hands-on, on-the-job training. Employees receive direct instructions and dive right into their work under the supervision of their experienced colleagues.
It's the go-to method for most companies because it reduces employee training costs. All thanks to using the resources that are already available in-house.
Here are a few hallmarks of practical training:
It takes place on the job site.
The transfer of knowledge happens directly between the manager/ supervisor and the trainee.
It typically takes the form of a one-on-one training session.
Let's look at the pros and cons of that employee training method:
PROS:
Individual Approach
Easy to Organize
Cost-effective
Time-efficient
No External Resources
Employees can get familiar with their working environment straight away.
CONS:
As much as you trust your managers and supervisors, the know-how they pass on during hands-on training may differ slightly from trainer to trainer.
Depending on the nature of the job, trainers can only teach one person at a time. In some cases, it can be smaller groups, but this method will not be effective if you need to train your whole company on a specific topic.
Asking your higher-ranking employees to train newcomers takes up the time they could spend doing their tasks, which are usually pretty important.
How to set it up:
Choose a supervisor, manager, or an experienced employee who will dedicate his time to train the new employee.
Implement when employee training requires:
Technical Skills
Practical Knowledge
Contact with Established Clients
Working with In-house Resources
Examples of employee training topics that go well with this method:
Account Management
Content Writing
Social Media Management
Programming
Side Note:
Coaching/ mentoring is a specific variant of practical training. It involves a higher-ranked, experienced employee or a mentoring expert coaching an employee and giving them practical knowledge.
This method is inspirational and will help to motivate your employees by showing them what they can achieve if they keep growing.
E-learning Employee Training
It's safe to say e-learning is the learning method of the future. As an employee training method, e-learning is predominant in big to mid-sized companies who need to train large numbers of people.
E-learning consists of providing an online employee training experience. Typically through some kind employee training software. The industry refers to it as a Learning Management System (LMS).
It has been widely adopted in corporations and medium-sized companies. It allows extreme flexibility and provides a uniform learning experience for anyone who has access to it.
Here are a few hallmarks of E-learning:
Computer-based
Available Online
Transfer of knowledge happens through LMS.
Widely adopted in corporations and medium-sized modern companies.
Provides a uniform learning experience for anyone who has access to it.
Let's look at the pros and cons of that employee training method:
PROS:
Access to training from anywhere in the world.
The exact same learning experience for everybody.
Extremely flexible knowledge source that can be expanded, changed, and updated.
Every employee can use it at their own pace.
Very efficient in training large groups of people.
Can be very engaging and interactive.
CONS:
Requires equipment and a robust informational infrastructure.
Building it from the ground up can be expensive and time-consuming.
The lack of human contact can be disengaging for the trainees.
Only applicable with certain topics.
How to set it up:
Large Employee Groups
LMS
Implement when employee training requires:
Uniform Learning Experience
Theory-based and Technical Topics
Providing knowledge to employees working remotely.
Interactive Learning Methods
Examples of employee training topics that go well with this method:
Virtually any topic of training that doesn't require human interaction.
Side Note:
Video training is a big part of the e-learning experience and a method that is quickly becoming an employee favorite. According to Forrester Research, employees are 75% more likely to watch an employee training video than to read documents, emails, or web articles.
Employee training video is a perfect match for trainings like:
Health and Safety
Onboarding
Legal
In-house University Programs
Measuring the Results of Your Employee Training Program
The last step in the employee training process is measuring the results.
Results are frequently overlooked because employers often assume that organizing the training itself is enough.
Unfortunately, that is not the case.
As mentioned at the beginning of the article, employee training is a part of a bigger picture called employee development. You should look at it as an ongoing process that you need to optimize to generate the full benefit.
An important part of that optimization is figuring out if your employee training works.
How do you do that?
The best ways to measure the results of an employee training plan are:
Performance reviews are an important part of an employee's evaluation. It's also how you assess if the employee training you implemented is working.
Encourage feedback.
Ask your employees if they feel like the training they received helped them with their work.
Online tests can measure whether or not your employees understood and absorbed the training knowledge.
It's a quick and simple solution that provides solid and measurable data regarding training efficiency.
If you already have an established LMS system, online tests are even easier to implement.
Employee Training Surveys
Once again, employee surveys come to the rescue.
Surveys are a simple tool that have the benefit of anonymity. You might not always get an honest answer during a performance review.
Surveys, on the other hand, allow your employees to speak freely about how they feel towards your employee training programs.
Progress Tracking Software
Progress tracking software is a ready-made solution that enables you to measure your employees growth with great detail. It can provide all sorts of information and has benefits that go beyond just measuring your employee training efficiency.
Pro tip: Track employee training long term. Your employees are most likely going to go through a number of trainings during the time they work for you. So, it's a good idea to keep an employee training record and track the history of their development.
Conclusion
Any way you look at it, employee training is very important for ensuring your company's growth. A well-executed employee training plan is a powerful tool that can put you ahead of the competition.
That's because an increase in employee training will be necessary in the future as jobs and work change. Getting ahead of the game is a smart move and a sound investment in the future of your company.
Finally, it's important to remember that employees are not only interested in getting paid. They are looking to develop deeper connections with their work. We all have the inherent desire to work toward a greater purpose. That is why providing employees with opportunities to grow and develop should be among the top priorities of every company.